Ok, so I've been slackin' on my Awkward & Awesome posts.  Sorry about that.  I've skipped out on the past few weeks for a couple reasons.  Mostly, I haven't had much awkwardness or awesomeness happening.  A couple of the weeks I was out of town and just couldn't fit in a blog post.  So this awkward & awesome is going to cover the past several weeks!
Are ya ready?
Here we go!
Awkward:
My baby pooping everywhere.  In the middle of Walmart.  And it got on my hand….in the middle of Walmart.  Gross.
Watching my fat jiggle in the mirror at the gym.  Gross.  Maybe we should turn this into "gross & awesome" instead.
That elephant in the room.  Gotta love that.
Strangers stopping and touching my child.  So weird.  Get your hands off my baby!!  I don't know you!
Visible boob sweat.  Nobody likes that.
Awesome:
Seeing some of the best people on the planet in Miami!  Haven't seen those friends in forever & it was a blast seeing them.
My baby doing AMAZING in the car ride down to South Florida.  Seven & a half hours and she was fabulous!
My new sewing machine.  So what I've only sewn one pillow so far on it.  It's still awesome.  I just know it!
Pinterest.  Awesome.  'Nuff said!
My husband.  He's pretty cool.
The Florida weather.  It's pipin' hot and I love it!
My post about my DIY Mercury Glass getting a lot of attention from Krylon!  Krylon Crafts tweeted about my project and I was asked (by the Krylon digital marketing team) to have my project posted to Krylon's Project In A Can website!  Suh-weet!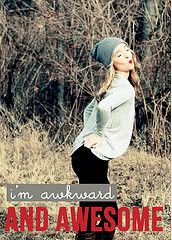 By the way, we reached 50 followers!!  Wahoooo!  So, stay tuned for an awesome giveaway on Friday!!
xoxo,
Amy